Posted on December 23, 2017 at 10:18 pm / Written by AdminWalt
Ashley and John perform together for the first time ever on Erotique Entertainment's flagship sex feature show ErotiqueTV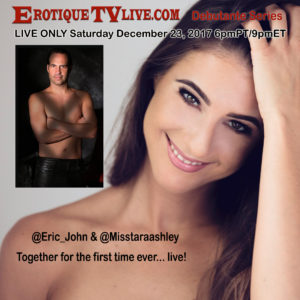 CHRISTMAS CHEER AS TARA ASHLEY AND ERIC JOHN CUM TOGETHER ON EROTIQUE ENTERTAINMENT'S EROTIQUETVLIVE.COM THIS SATURDAY NIGHT
December 21, 2017 – Fast rising new starlet Tara Ashley and veteran performer Eric John enjoy the holiday orgasmically in a live sex feature on Erotique Entertainment's ErotiqueTV. This will be the first time Ashley and John have performed together in any setting.
Ashley's natural sexuality and wild exhibitionism immediately caught John's attention. "I became aware of Tara when she made her first trip to Los Angeles as a performer back in September, " recalled John. "Everything I saw and heard about her immediately attracted me. She's exciting and exuberant and her smile is like a force of nature."
Ashley said, "My sex freak has definitely come out in my life, I really do love it. I've always been really horny but finally this year I had my first orgasm vaginally from fucking… and since then I've been like a sex monster. I can't get enough of it."
"I've been dying to schedule Tara since I first saw her… and all the wild exhibitionist stuff she puts on her twitter, " John laughed. "It's the perfect Christmas present that we are able to come together for the holidays."
The exhibitionist streak fits well with the live audience. "It's super exciting to be fucking Eric for the first time live in from of all the fans! I hope so many people watch us and get off with us!" exclaimed Ashley.
As an added bonus, Ashley has a well-established foot fetish following which fits in perfectly with John's own predilections. "Clearly there will be a lot of worshipping and kinky stuff going on. This couldn't be a better match!"
The pair's inaugural sex adventure will be presented Saturday, December 23, 2017, at 6pmPT/9pmET on Erotique Entertainment's main premium website ErotiqueTVLive.com for members of the site. As is true for all ErotiqueTV feature productions, ErotiqueTVLive.com site members can view the performance live from two separate angles simultaneously, a unique feature of the website. Eventually the edited high definition version of the show will be available to members as well; however in the near term, the only way to witness this performance is live as it occurs at the scheduled time via the website.
John said, "This sounds like the perfect occasion to provide Tara at least 12 orgasms for Christmas. I will have to see if I can cum as many times as her."