Posted on March 17, 2017 at 9:51 pm / Written by ErotiqueTV 1
FOR IMMEDIATE RELEASE
SEX SUPERSTAR KATE ENGLAND PERFORMS LIVE ON EROTIQUETV FOR FIRST TIME WITH ERIC JOHN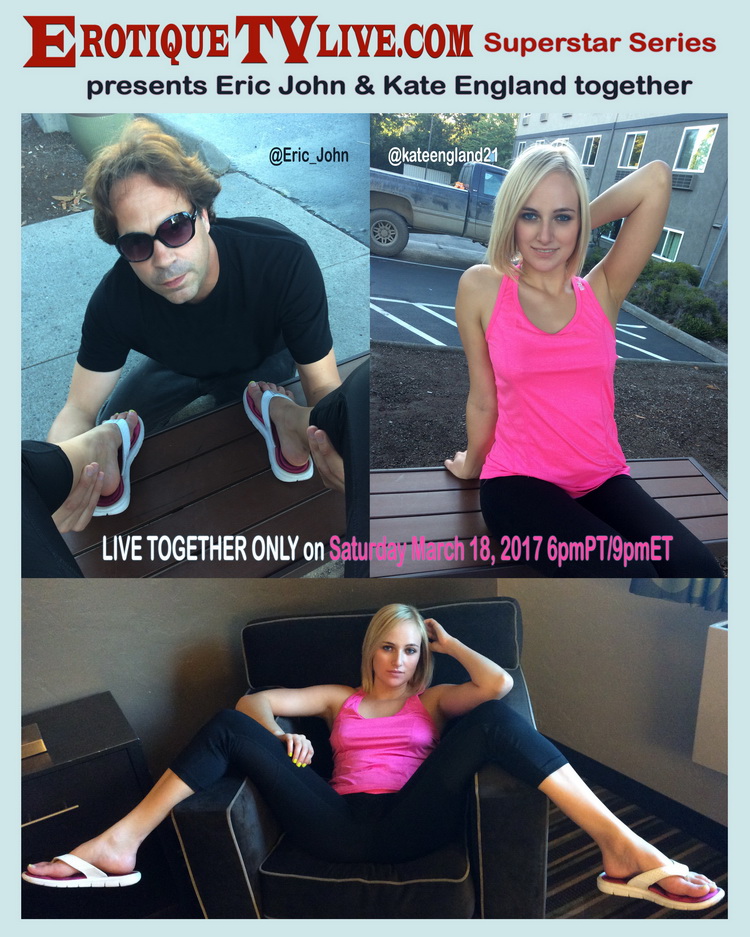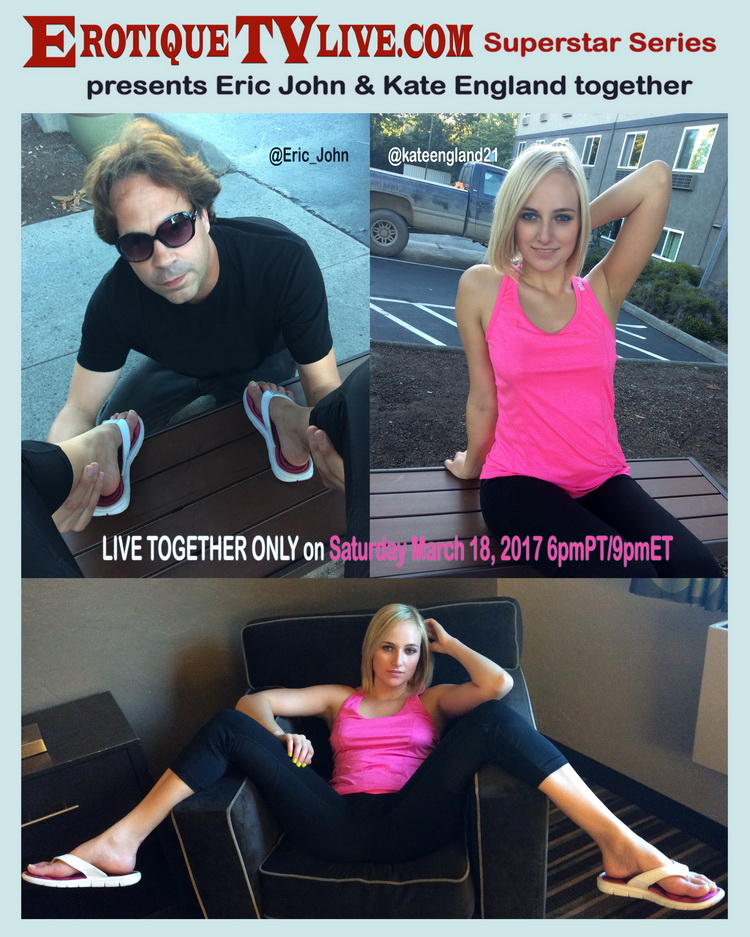 The duo's first live sex appearance together has fans of both abuzz with heightened expectations.
March 17, 2017 – Blonde blue-eyed sex superstar Kate England joins Erotique Entertainment CEO Eric John this Saturday night for a two-hour live sex feature show produced by Erotique's live division ErotiqueTV.
Though the two stars have performed together in several very different scenarios playing many different roles, this is the first time fans can join them as they have real live sex just as they want to themselves – not bound by the dictates of some script or outside director – which is the beauty of the ErotiqueTV format.
"From the onset, I felt like the opportunity present in the live feature show on ErotiqueTV was to present the sex between the participants as they most wanted it to happen, " explains John. "So the show is very different in style, pacing, mood, sexual act… every aspect really, depending on who the specific guests are and the chemistry that exists or evolves naturally."
The England-John performance can be experienced by members of ErotiqueTVLive.com this Saturday night, March 18, 2017, at 6pmPT/9pmET. As is true for all ErotiqueTV feature productions, ErotiqueTVLive.com site members can view the performance from two separate angles simultaneously, a unique feature of the website. Eventually the edited high definition version of the show will be available to members as well; however in the near term, the only way to witness this first time performance is live as it occurs at the scheduled time via the website.
England and John have many elements of their backgrounds in common. Both grew up in small towns in the northeastern United States (one in Pennsylvania, one in upstate New York). Both are college graduates who were straight A student's in high school, while at the same time both were highly sexual in the background. Both had a lot of supposedly discrete yet widely known sex prior to the industry as civilians. Their success in other areas of life only served to facilitate this.
Both England and John chose to have adult entertainment be their primary occupation, despite a host of other professional opportunities that were available to them because they wanted to be in adult more than any other field. Both admit they masturbate at least 4 to 7 times daily when they don't have scenes; so their appetites are very well suited to each other.
England is an incredible and diverse performer, who enjoys the sex and can either be submissive or dominating, depending on the circumstances. John says, "Everything we've done together so far – except for one small stills vignette that we designed together indicating the potential – was dictated by other companies and directors. I am extremely excited to see what levels of ecstasy we can achieve when we put our minds and bodies together for our own maximum enjoyment in this session."
England adds, "I am super excited to not only work with Eric again but to be able to have a completely different experience than the last time. I can't wait to let go and have sex the way I want to and really enjoy it. I want everyone watching to feel the intensity with me."
"Kate has stated on record she prefers older experienced lovers and that she loves balls, sloppy bj's, doggy, and cum everywhere, " says John who has obviously done his research. "Well, we'll have the opportunity to satisfy her in all those ways during this session Saturday night. Perhaps we can set some records in cumshots…. Though my record is pretty high (14)."
John feels like the show could shatter other records as well. "Kate is ranked very high on sites such as FreeOnes and various other indicators of popularity, and her fans are obviously extremely devoted. Plus interacting with her during this type of live boy/girl performance is not something available every day. So this should be very special, and the audience should be very large and engaged."
"Hopefully fans will not only be engaged but also be able to get off with us," adds England. "Several times."
Erotique Studios has added more to it's full and exciting lineup of upcoming special sex shows, which are in addition to the daily live broadcasts on the ErotiqueTVLive.com website:
Mar 25 Superstar Series with Melissa Moore
Apr 1 Superstar Series with Stella Cox
Apr 8 Superstar Series with Dahlia Sky
Apr 15 Superstar Series with Gina Valentina
May 20 Threesome with Dahlia Sky and Lily LaBeau
Recent shows have included superstars Valentina Nappi, Dana Vespoli, Lea Lexis, Luna Star, Chanel Preston, Anna DeVille, Dahlia Sky, and Julia Ann, in addition to newer stars like Sophia Summers, Alix Lovell, Stevie Foxx, Chloe Carter, Riley Nixon, and Zoe Clark.
New hot blonde 19-year-old teen Zoe Clark is officially a regular ErotiqueTV star, so fans can tune in to see multiple performances with her and John every month.
Email Erotique Entertainment Inc. at info@erotiqueentertainment.com
Follow Eric John and Erotique Entertainment on twitter: @Eric_John. @ErotiqueEnt, @ErotiqueTV, @ErotiqueStudios.