About: Sofie Marie

My name is Sofie Marie, and I am an Ironman triathlete, 10 time Marathoner, and a loving hotwife. I love being nude, wearing micro bikinis, and sexy outfits for the camera!! Join me on my XXX journey!
cupsize:B
waist:26in / 66cm
height:5ft 10in / 180cm
feet:US: 8 / EU: 38-39
age:39
role:Switch
eyecolor:Blue
sexuality:Bi Sexual
languages:English
favoritefood:Tacos
favoritedrink:Tequila
dresssize:2
bodybuild:Slim
fetishes:Anal, Wrestling
haircolor:Brown
Upcoming shows
Join me for my sexy sex show on VNALIVE.com! Talk to me and get me naked! If you like super tiny bikinis and long legs, and a down to earth horny girl, join me for really sexy fun.
Sun, Aug 13, 10:00PM EDT
Sun, Aug 13, 11:00PM EDT
Sun, Aug 20, 10:00PM EDT
Sun, Aug 20, 11:00PM EDT
Sun, Aug 27, 10:00PM EDT
Sun, Aug 27, 11:00PM EDT
Sun, Sep 3, 10:00PM EDT
Sun, Sep 3, 11:00PM EDT
Sun, Sep 10, 10:00PM EDT
Sun, Sep 10, 11:00PM EDT
Sun, Sep 17, 10:00PM EDT
Sun, Sep 17, 11:00PM EDT
Sun, Sep 24, 10:00PM EDT
Sun, Sep 24, 11:00PM EDT
Sun, Oct 1, 10:00PM EDT

@freakinstien @spikeironsxxx join me for a threesome BBG SHOW!! 7 pm PST
Written on July 20, 2018 at 4:00 pm
Categories: Sofie Marie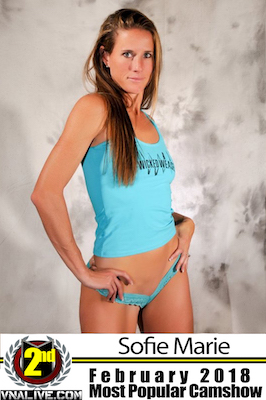 via Sofie Marie, Part Three: Hotwife
via A Naughty Hardbody: Sofie Marie, Part One
via Sofie Marie, Part Two: YummySofie