Select your timezone:
About: ErotiqueTV 1

ErotiqueTVLive.com The world's premium live boy/girl porn star sex feature site. You can try us out for only $4.95 Endless content!
cupsize:
waist:
height:
feet:
age:
role:
eyecolor:
sexuality:
languages:
dresssize:
bodybuild:
fetishes:
haircolor:
Upcoming shows
Every week we do hardcore live shows featuring Eric John and various pornstars!
Sun, Jul 22, 6:00PM EDT
Sun, Jul 29, 6:00PM EDT
Sun, Aug 5, 6:00PM EDT
Sun, Aug 12, 6:00PM EDT
Sun, Aug 19, 6:00PM EDT
Sun, Aug 26, 6:00PM EDT
Sun, Sep 2, 6:00PM EDT
Sun, Sep 9, 6:00PM EDT
Sun, Sep 16, 6:00PM EDT
Sun, Sep 23, 6:00PM EDT
Sun, Sep 30, 6:00PM EDT
Sun, Oct 7, 6:00PM EDT
Sun, Oct 14, 6:00PM EDT
Sun, Oct 21, 6:00PM EDT
Sun, Oct 28, 6:00PM EDT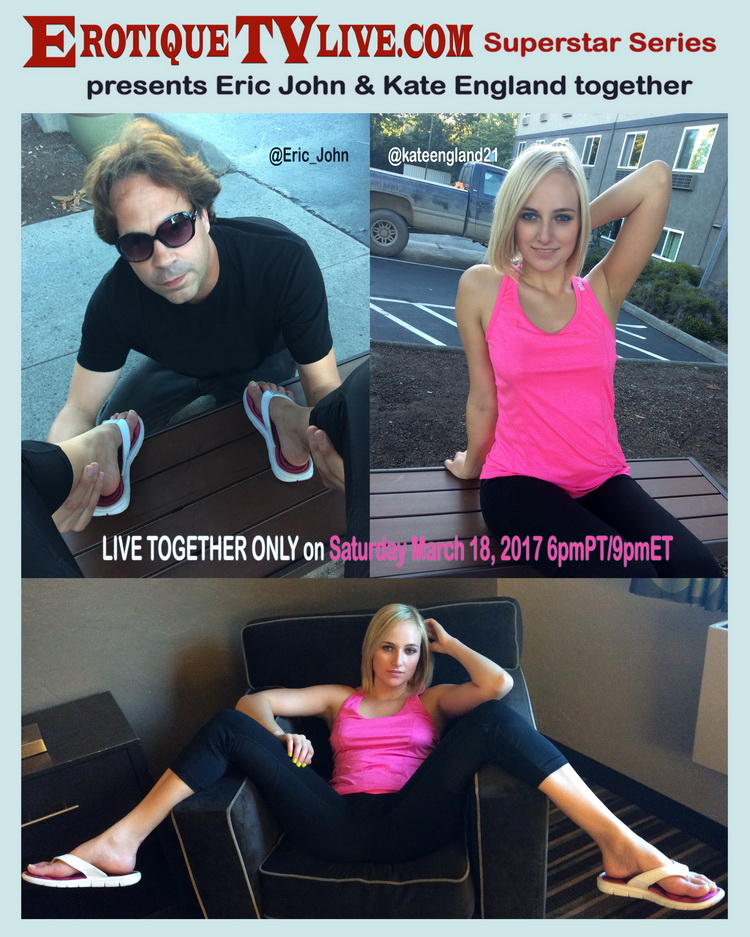 FOR IMMEDIATE RELEASE SEX SUPERSTAR KATE ENGLAND PERFORMS LIVE ON EROTIQUETV FOR FIRST TIME WITH ERIC JOHN The duo's first live sex appearance together has fans of both abuzz with heightened expectations. March 17, 2017 – Blonde blue-eyed sex superstar Kate England joins Erotique Entertainment CEO Eric John this Saturday night for a two-hour live
Continue Reading »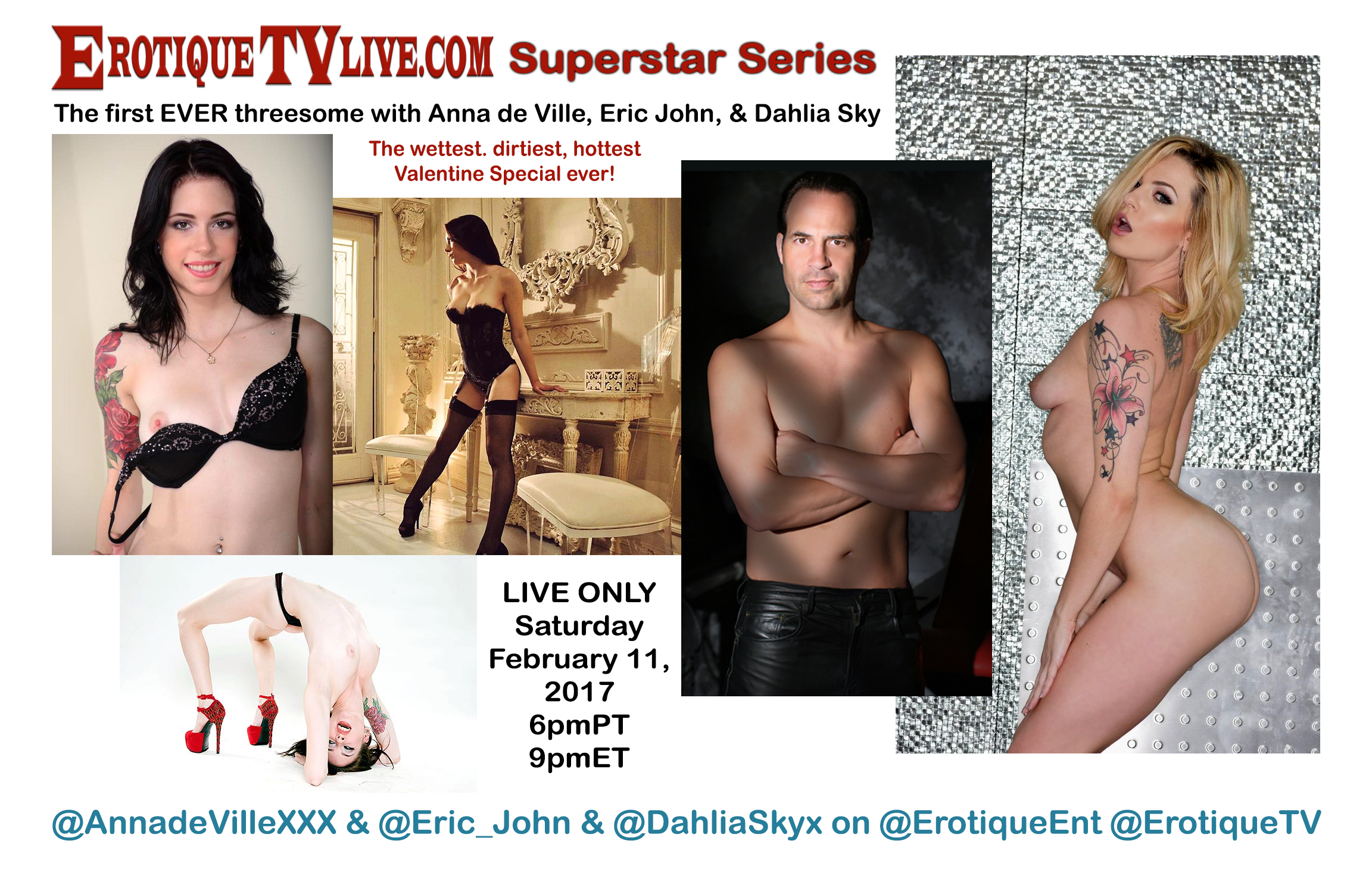 FOR IMMEDIATE RELEASE:  EROTIQUETV VALENTINES SPECIAL FEATURES FIRST EVER THREESOME WITH ANNA DEVILLE, DAHLIA SKY, AND ERIC JOHN Two of the most popular ErotiqueTV girls, Anna de Ville and Dahlia Sky, come together with Eric John for an orgasmic wet Valentine for fans also simulcast on www.vnalive.com February 10, 2017 – Erotique Entertainment's Valentine's Day
Continue Reading »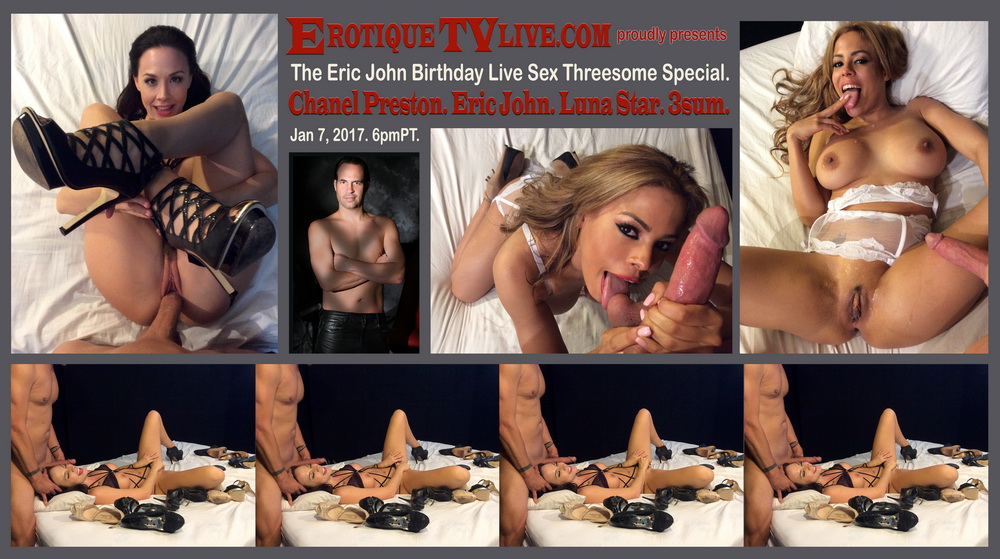 CHANEL PRESTON AND LUNA STAR CELEBRATE ERIC JOHN'S BIRTHDAY WITH A LIVE THREESOME ON EROTIQUETV Preston and Star have previously only appeared on ErotiqueTV in boy-girl scenes never threesomes; Preston and Star have never been in a scene together before. January 5, 2017 – Superstars Chanel Preston and Luna Star join Eric John to celebrate
Continue Reading »